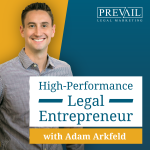 In today's episode, we interview Bobby Klinck of BobbyKlinck.com.
Bobby Klinck
Bobby Klinck is a Harvard law grad turned entrepreneur who built a thriving multiple six-figure business selling the most boring thing ever (legal templates) using email. No launches or complex funnels… just plain old email. His weekly emails (and sales emails) have built a cult following because they're actually fun to read.
Bobby's a born storyteller who has a knack for making complex things like the "legal stuff" and "business stuff" simple and fun. But his real superpower is his ability to build real connections with people in the online world. Bobby knows that 1 raving fan is worth more than 100 email leads any day of the week.
Nowadays, besides helping people with the "legal stuff," Bobby also helps other entrepreneurs build their own raving fan bases and master email marketing there right away.
Prevail Legal Marketing
Prevail Legal Marketing is redefining the relationship between PPC companies and law firms. Marketing agencies have been taking advantage of law firms for too long with retainers that incentivize higher ad spends rather than improved performance.
At Prevail, we partner with law firms to mitigate their risk by guaranteeing lead costs and reinventing the traditional marketing retainer model.
Prevail's PPC Marketing is Different
– Pay for Results, not Promises
– Guaranteed Lead Costs
– Start, Stop, or Increase Volume On-Demand
– No Up-Front Fees
– No Long-Term Contracts
More Podcast Episodes