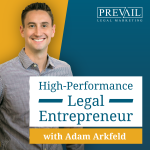 In today's episode, we interview Dan Garrison, Co-Founder and Managing Director of Fresh Start Funding.
Dan Garrison
Dan is a co‐founder and Managing Director of Fresh Start Funding. Dan's cultivated a national reputation in corporate restructuring, business bankruptcy and bankruptcy litigation.
A regular speaker and author featured with various state and local bar and professional associations and the American Bankruptcy Institute, Dan graduated from the University of Utah College of Law, where he served on the Utah Law Review and clerked for the Hon. Dee V. Benson of the United States District Court for the District of Utah.
He serves on the Alumni Board of Trustees of his law school and is a founding board member, former board chair and governance committee chair of Care Fund, a charity providing housing assistance to the families of critically ill children.
Fresh Start Funding
Fresh Start Funding helps attorneys grow their practices by offering payment plans to clients who can't pay up-front fees.
We provide everything firms need to offer clients payment plans for your fees: financing so you get paid first, payment management so you're not chasing clients for fees, and proven marketing support to attract and retain more clients.
Over 500 firms nationwide and thousands of clients use our service.
For more information about Fresh Start Funding, please visit
Website: https://www.freshstartfunding.com/prevail
Twitter: @zerodownlegal
Facebook: facebook.com/FreshStartFunding
Instagram: @freshstartfunding
Prevail Legal Marketing
Prevail Legal Marketing is redefining the relationship between PPC companies and law firms. Marketing agencies have been taking advantage of law firms for too long with retainers that incentivize higher ad spends rather than improved performance.
At Prevail, we partner with law firms to mitigate their risk by guaranteeing lead costs and reinventing the traditional marketing retainer model.
www.growwithprevail.com
Prevail's PPC Marketing is Different
Pay for Results, not Promises
Guaranteed Lead Costs
Start, Stop, or Increase Volume On-Demand
No Up-Front Fees
No Long-Term Contracts
More Podcast Episodes