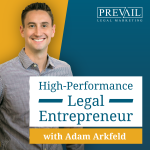 In this episode, we interview Sigalle Barness, Chief Storyteller at Lawline, an online learning platform for attorneys desiring engaging, relevant CLE and professional growth content.
Sigalle Barness
Sigalle is the Chief Storyteller at Lawline, the leading online education platform for lawyers in the U.S. Sigalle champions and grows Lawline's brand awareness through impactful stories that are authentic, meaningful, and thought provoking. She designs communications strategies that underscore the why and how behind Lawline's work. Sigalle also strategically delivers episodic content focused on conversations and interviews with key figures that truly reflect the business, professional, and educational needs of the legal industry.
Prior to this role, Sigalle was Lawline's Chief Operating Officer where she spearheaded nationwide expansion of learning and growth development videos to over 1 million attorneys and accountants. Under Sigalle's leadership, Lawline achieved historically high revenue and profit margins year over year through implementation of well-developed growth strategies, focus on a subscription-based business model, and creation of employee culture and retention programs.
Before joining Lawline in March 2012, Sigalle litigated civil claims in areas such as landlord tenant, breach of contract and tax lien and mortgage foreclosures actions.
Sigalle is an avid lover of reading science fiction, playing video games, memoir writing, and spicy food. In her spare time, she enjoys living room dance parties with her husband and two toddlers.
Lawline
Lawline is an Online learning platform for attorneys striving for engaging, relevant CLE and professional growth content. Lawline is dedicated to helping lawyers take charge of their professional growth with timely, relevant subject matter that covers a broad range of practice areas. Lawline's platform transforms traditional Continuing Legal Education (CLE) compliance into practical knowledge that accelerates a lawyer's ability to grow and serve.
Prevail Legal Marketing
Prevail Legal Marketing is redefining the relationship between PPC companies and law firms. Marketing agencies have been taking advantage of law firms for too long with retainers that incentivize higher ad spends rather than improved performance.
At Prevail, we partner with law firms to mitigate their risk by guaranteeing lead costs and reinventing the traditional marketing retainer model.
Prevail's PPC Marketing is Different
– Pay for Results, not Promises
– Guaranteed Lead Costs
– Start, Stop, or Increase Volume On-Demand
– No Up-Front Fees
– No Long-Term Contracts
More Podcast Episodes