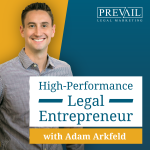 In this episode, we interview Jay Sheryll, Founder & Owner of Sheryll Law, P.C.
Jay Sheryll
As a husband and father of two daughters, Jay Sheryll understands the importance of family relationships and legacy. When he graduated Summa Cum Laude with a Juris Doctor degree from Touro College Jacob D. Fuchsberg Law Center, he knew he wanted to start his own practice and devote it to estate planning because, in his words, "having a family is all we leave behind." He established Sheryll Law, P.C. in Riverhead, New York, in 2017, where he and his staff cater to clients' estate planning needs on the East End of Long Island.
What makes Jay so passionate about estate planning law? "I enjoy seeing the ease and peace of mind our clients experience after we've helped them navigate through the process – especially because they often wait until the last minute. We guide them through a trying time in their lives and help them achieve their goals. That is what drives all of us at Sheryll Law, P.C."
Jay and his team help their clients leave a legacy and achieve the peace of mind of knowing that they can protect their family if something happens to them. Sheryll Law, P.C. understands that their clients have worked hard to build their legacy. It is their pleasure to help them leave their money to their loved ones according to their wishes. When not working, Jay enjoys spending time with his wife Brigitte, and daughters Eliana and Lily; playing chess; and making music with various instruments, including the guitar, trumpet, and violin. He and his family reside on the East End of Long Island, within 15 minutes of the Sheryll Law, P.C. Riverhead office.
Sheryll Law, P.C
It's the mission of Jay and Sheryll Law, P.C. to be the last attorney and law firm their client's shop for because they go beyond estate planning services to become a trusted advisor in a multitude of vital areas.
Having observed other firms haphazardly draft wills and throw together some powers-of-attorney without any thought to the planning aspect, Jay realized he could fulfill a need for East End Long Island clients. Furthermore, because Sheryll Law, P.C. devotes its practice solely to estate planning, they know the rules of the game and explain them to everyone who consults with them. Notes Jay, "Our clients have a right to be educated so that we can help them make smart decisions and accomplish their objectives."
Although Jay and the Sheryll Law, P.C. team are consummate professionals with years of estate planning experience, they remain approachable and down-to-earth. In an area of law perceived to be stuffy and condescending, under Jay's guidance, Sheryll Law, P.C. treats their clients with respect, courtesy, and warmth –as evidenced by their many online reviews.
Prevail Legal Marketing
Prevail Legal Marketing is redefining the relationship between PPC companies and law firms. Marketing agencies have been taking advantage of law firms for too long with retainers that incentivize higher ad spends rather than improved performance.
At Prevail, we partner with law firms to mitigate their risk by guaranteeing lead costs and reinventing the traditional marketing retainer model.
Prevail's PPC Marketing is Different
– Pay for Results, not Promises
– Guaranteed Lead Costs
– Start, Stop, or Increase Volume On-Demand
– No Up-Front Fees
– No Long-Term Contracts
More Podcast Episodes