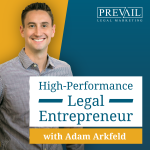 In this episode, we interview Brian Moskowitz, Managing Director of the Kenzak Group, which is a legal recruitment firm that helps build dominant law firms and thriving legal careers.
Brian Moskowitz
After practicing law for over twenty years and seeing countless attorneys who were miserable and burnt out and others who were happy and thriving in their careers, Brian realized a primary reason for the distinction.
Combining his knowledge of the legal industry with over thirteen years of training in personal development, mindset/mental toughness, practical psychology, and Neuro-Linguistic Programming, Brian figured out the nuances that cause one hire to succeed and another to fail. It's not about checking the box of years of experience, the right school, or previous results; it's matching who you are, what you do, and why you do it with the right opportunity.
When he's not impacting the lives of attorneys, Brian is changing lives in the rest of the world. He is a performance and business strategist with a history of building and leading successful teams, coaching attorneys to thrive at work and home, and traveling the country as a trainer for Tony Robbins, one of the world's top business leaders according to Accenture, Harvard Business Press, and American Express.
Brian was born and raised in Brooklyn, NY, and resides in South Florida. He's also a firewalker. Be uncommon.
Kenzak Group
Kenzak Group is a boutique talent access firm that matches uncommon lawyers with uncommon law firms. Lawyers – you're a free agent. You can choose where you want to work. But the only way to know if you're missing out on a better opportunity at another firm is to test the market. Sometimes the grass is greener at another firm, and sometimes it's not. There's only one way to know. That's where we come in. We are industry insiders with access to a wide array of career-enhancing options that match your personality and allow you to thrive in all areas of your life. Law Firms – you're in the midst of a never-ending war for talent. And if you're not fully engaged and executing a comprehensive strategic plan that delivers a steady pipeline of best-in-class attorneys to choose from, you will lose. That's where we come in. We are industry insiders that seek, attract, qualify, match, and deliver the attorneys you need to win. When would now be a good time to contact us. Be uncommon.
Prevail Legal Marketing
Prevail Legal Marketing is redefining the relationship between PPC companies and law firms. Marketing agencies have been taking advantage of law firms for too long with retainers that incentivize higher ad spends rather than improved performance.
At Prevail, we partner with law firms to mitigate their risk by guaranteeing lead costs and reinventing the traditional marketing retainer model.
Prevail's PPC Marketing is Different
– Pay for Results, not Promises
– Guaranteed Lead Costs
– Start, Stop, or Increase Volume On-Demand
– No Up-Front Fees
– No Long-Term Contracts
More Podcast Episodes