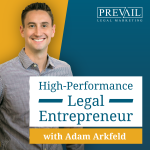 In today's episode, we interview Eric Bersano, VP of Business Development at Market My Market.
Eric Bersano
Eric is currently the V.P. of Business Development at Market My Market and has been working with law firms since 2006. His career started with FindLaw where he became one of the top reps in the country. After three years Eric started his own digital marketing company and worked with a direct response media agency specializing in TV. His experience includes Social Media, Paid Search, SEO, TV & Radio which enables him to help local firms who want to bring in more clients online as well as national campaigns that target mass torts.
Prevail Legal Marketing
Prevail Legal Marketing is redefining the relationship between PPC companies and law firms. Marketing agencies have been taking advantage of law firms for too long with retainers that incentivize higher ad spends rather than improved performance.
At Prevail, we partner with law firms to mitigate their risk by guaranteeing lead costs and reinventing the traditional marketing retainer model.
Prevail's PPC Marketing is Different
– Pay for Results, not Promises
– Guaranteed Lead Costs
– Start, Stop, or Increase Volume On-Demand
– No Up-Front Fees
– No Long-Term Contracts
More Podcast Episodes