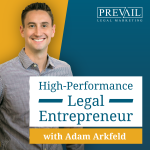 In this episode, we interview Doug Passon, Owner of Law Offices of Doug Passon, The Narrative Gym Introducing the ABT Framework for Persuasive Advocacy.
Doug Passon
Doug Passon is a litigator of twenty-five years. He has practiced in state and federal court and in public and private firms. He is also an award-winning documentary filmmaker who combines his passion for filmmaking and storytelling with his practice of law by producing short documentaries for use as mitigation at sentencing and post-conviction proceedings. Passon is the internationally recognized expert in using video advocacy in sentencing and post-conviction proceedings. He was featured in the Wall Street Journal as a pioneer in this emerging field and has appeared in the New York Times, The Atlantic, Le Monde, Le Temps, WGN Radio, and numerous other podcasts and television programs, including his all time favorite show, The Simpsons!
Passon has given over 100 lectures on storytelling, video advocacy, and other topics. He also served for seven years on the faculty of the National Sentencing Advocacy Workshop, a twice yearly, top-tier training program for public and private lawyers seeking to hone their sentencing and storytelling skills.
He has published numerous articles on sentencing and criminal justice issues, including, Using Mitigation Videos to Build the Bridge of Empathy at Sentencing, THE CHAMPION, June 2014; Winning at Sentencing with Theories, Themes, & the Creative Demonstration of Truth, THE CHAMPION, March 2017; and The "3Rs" of Sentencing Storytelling, THE CHAMPION, April 2021. He authors the Story for Lawyers blog, designed to give lawyers the tools they need to win cases by becoming better storytellers in and out of the courtroom (www.dougpasson.com). In December of 2021, his first book, co-authored with story expert Dr. Randy Olson was released, The Narrative Gym for Law: Introducing the ABT framework for persuasive advocacy.
Passon was born and raised in the Midwest. He completed a dual degree at Indiana University in Criminal Justice and Speech Communications in 1992, and graduated from Washington University School of Law in 1996. He currently lives in Scottsdale, Arizona with his wife Rachel, two kiddos and two ridiculously handsome dogs. He is an independent filmmaker and screenwriter, an accomplished guitarist and singer/song-writer, and is addicted to very, very, very spicy food and chocolate chip cookies, soft not crunchy please.
Prevail Legal Marketing
Prevail Legal Marketing is redefining the relationship between PPC companies and law firms. Marketing agencies have been taking advantage of law firms for too long with retainers that incentivize higher ad spends rather than improved performance.
At Prevail, we partner with law firms to mitigate their risk by guaranteeing lead costs and reinventing the traditional marketing retainer model.
Prevail's PPC Marketing is Different
– Pay for Results, not Promises
– Guaranteed Lead Costs
– Start, Stop, or Increase Volume On-Demand
– No Up-Front Fees
– No Long-Term Contracts
More Podcast Episodes