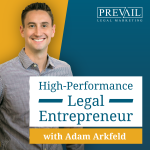 In this episode, we interview Allen Watson & Victoria Lozano, Co-Founders of Blue Seven Content.
Allen Watson
Allen Watson has been working with law firms for some time now, but his path to this career wasn't "usual." Allen spent his late teens through late 20s working in emergency medical services. During that time, he finished his bachelor's degree in political science and master's degree in teaching. After finishing grad school, Allen taught high school until his parents' health necessitated that he work from home. That turn of fate led to working with law firms.
After writing for various law firm marketing agencies and dozens of law firms, Allen founded Blue Seven Content with Victoria Lozano. The company recognizes the value that quality content can bring to law firms and other businesses. Allen continues to write practice area pages and blog posts for firms while also running Blue Seven.
Allen grew up along the Carolina coast, an area of natural beauty that keeps him calm and centered. This is the way. An avid science fiction fan, Allen loves both Star Wars and Star Trek equally (a feat many argue isn't possible). When he isn't working, he is probably at the dog park with Fin or at the gym.
Victoria Lozano
Victoria Lozano is founder and consultant at Blue Seven Content. She received her BA in English from Coastal Carolina University and MA in English with certificates in Women and Gender Studies, and Rhetorical Studies from Appalachian State University. After five years of teaching courses in first year writing, business writing, and women and gender studies, she followed her passion of learning to Chicago Kent Law School and is set to graduate with a JD in May 2022. Her passion for communication, research, and social construction motivated her to seek a legal degree specializing in labor and employment law. Her dedication to leadership coupled with her wide range of experiences makes her wonderfully suited to the mission of Blue Seven Content. Victoria is affiliated with Chicago Bar Association (CBA), American Bar Association (ABA), and the Lesbian and Gay Bar Association (LAGBAC). She served on the Women and Gender Studies Advisory Board (2016-2018) and the Composition and Rhetoric Committee (2015-2018) at CCU.
Blue Seven Content
Blue Seven Content is not an all-inclusive legal marketing agency. We believe that far too much gets lost in translation when companies focus on "everything" instead of specializing. Blue Seven Content provides premium content for law firms throughout the United States. We only do content. We focus on providing:
– Law firm landing pages
– Law firm practice area page
– Law firm blog posts
– Law firm FAQ pages
– Law firm press releases
– Attorney bio pages
– Law firm "about us" pages
Quality content on your firm's page is critical, but you need to work with someone who understands how to write copy for law firm pages. At Blue Seven Content, our law firm writers understand how to write content for your website. There are plenty of lawyer marketing firms out there that promise to be your silver bullet to gaining more clients, but they often ignore the actual content that is being written.
Our writers are all native English speakers with college degrees, and our slogan is Original, Researched, Optimized.
– Original: Every piece of content we provide for your law firm will be written from scratch. Plagiarism is a sin in our universe, so you will never receive anything copy and pasted from somewhere else.
– Researched: Our writers are also researchers with college degrees. We research your practice area and geographic location so we can include relevant statistics, laws, news articles, and more.
– Optimized: SEO keywords and phrases need to be implemented throughout the text. Our writers seamlessly integrate SEO keywords and phrases into an easy-to-follow narrative, ensuring increased searches and readership.
Prevail Legal Marketing
Prevail Legal Marketing is redefining the relationship between PPC companies and law firms. Marketing agencies have been taking advantage of law firms for too long with retainers that incentivize higher ad spends rather than improved performance.
At Prevail, we partner with law firms to mitigate their risk by guaranteeing lead costs and reinventing the traditional marketing retainer model.
Prevail's PPC Marketing is Different
– Pay for Results, not Promises
– Guaranteed Lead Costs
– Start, Stop, or Increase Volume On-Demand
– No Up-Front Fees
– No Long-Term Contracts
More Podcast Episodes