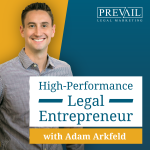 In today's episode, we interview Michael Erath, Founder of Next Level Growth, a firm of business guides who help businesses systemize and scale.
Michael Erath
In the first 15 years of his career, Michael took over an $8MM family manufacturing business which he grew to $45MM in revenue with over 200 employees during his 15 years as President & CEO.
Being tied closely to the housing market and due to a significant betrayal from a business partner who eventually served prison time for embezzlement and fraud, during the financial collapse of 2009 Michael lost it all.
Late in 2010, Michael leveraged all that he had and started a new business. It was during the startup of his new business that Michael was introduced to the book Traction®. In Traction, Michael found many of the same tools he had implemented in the past, but this time as part of a more holistic system that filled in many of the missing gaps he experienced when he had tried the "do-it-yourself" route earlier in his career.
Shortly thereafter, Michael began implementing EOS® as the basic foundation in his new business. With EOS® as the foundation, Michael then used his past experience with other systems to plug the holes that exist in EOS, layering on strategy and cash management tools from Scaling Up; recruiting and hiring A-Player playbooks from Topgrading; and other advanced business tools he had learned over his career and from his time in YPO. This customized approach allowed him to grow the business rapidly and in 2015 make the Inc. 5000. Running the business on a complete and custom-tailored system gave Michael the entrepreneurial freedom to eventually exit the business and focus on his true passion: Taking all that his entrepreneurial life has given him, sharing it openly and vulnerably, and in doing so giving it all back as a full-time business guide.
Since 2015, Michael has been a record holding Certified EOS Implementer®, a Certified Scaling Up Coach and a Certified Pinnacle Business Guide. As the only business guide in the US to have simultaneously held all three certifications, Michael shares from his vast knowledge as well as his more than 20 years of experience in the trenches of the entrepreneurial world to help his clients bring their dreams to reality. Rather than offering a one-size-fits-all solution, Michael guides them in implementing a customized, holistic operating system that can only be done by someone who has lived through it all.
In 2017 Michael wrote about his incredible journey from success, to collapse, to rebuilding based on lessons learned in what has now become an Amazon Best-Seller. His book, RISE: The Reincarnation of an Entrepreneur, is available in print and audio on Amazon.
Next Level Growth
Next Level Growth offers business guidance to entrepreneurial minded business owners and their leadership teams by helping them implement tools and concepts to fill their organizations with great people, learn how to lead them with an inspiring purpose, create optimized playbooks to train their teams on how to execute consistent processes, and instill a culture of performance, all of which leads to best-in-class profits and cash flow. You can take their 5-minute Business Health CheckUp at www.NextLevelGrowth.com/CheckUp to see how your organization is performing, validating both where you are strong and where you have opportunities to grow stronger.
Next Level Growth has a team of experienced former CEOs and COOs available to help companies throughout the United States.
www.NextLevelGrowth.com – We always capitalize the N, L and G.
Email: StartClimbing@NextLevelGrowth.com – Also capitalizing S & G in StartClimbing

Prevail Legal Marketing
Prevail Legal Marketing is redefining the relationship between PPC companies and law firms. Marketing agencies have been taking advantage of law firms for too long with retainers that incentivize higher ad spends rather than improved performance.
At Prevail, we partner with law firms to mitigate their risk by guaranteeing lead costs and reinventing the traditional marketing retainer model.
Prevail's PPC Marketing is Different
– Pay for Results, not Promises
– Guaranteed Lead Costs
– Start, Stop, or Increase Volume On-Demand
– No Up-Front Fees
– No Long-Term Contracts
More Podcast Episodes