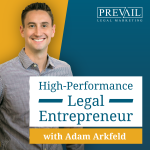 In this episode, we interview Heather Moulder, Lawyer Career Coach & Business Development Strategist.
Heather Moulder
Heather Moulder is a former BigLaw partner turned lawyer leadership and business coach (and host of the Life & Law Podcast). She's on a mission to help purpose-driven lawyers ditch stress, overthinking and people-pleasing while creating their version of success in both law and life.
Described by her clients as results-driven and inspiring, Heather uses her unique Rewire-Reconnect-Realign Framework to help her clients confidently build the practice they actually want so that they can increase both impact and income without burning out. Working with Heather has been known to deliver a more than 20x ROI (doing less, not more).
When not helping her clients achieve both success and balance, you'll often find Heather cheering on her 2 baseball-crazed (only slightly mischievous) boys.
Website: https://www.coursecorrectioncoaching.com/
LinkedIn: https://www.linkedin.com/in/heathermoulder/
The Life & Law Podcast: https://www.lifeandlawpodcast.com/
Values Assessment: https://www.coursecorrectioncoaching.com/how-to-get-unstuck-in-life-guide/
Prevail Legal Marketing
Prevail Legal Marketing is redefining the relationship between PPC companies and law firms. Marketing agencies have been taking advantage of law firms for too long with retainers that incentivize higher ad spends rather than improved performance.
At Prevail, we partner with law firms to mitigate their risk by guaranteeing lead costs and reinventing the traditional marketing retainer model.
Prevail's PPC Marketing is Different
– Pay for Results, not Promises
– Guaranteed Lead Costs
– Start, Stop, or Increase Volume On-Demand
– No Up-Front Fees
– No Long-Term Contracts
More Podcast Episodes