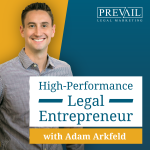 In today's episode, we interview Steve Fretzin, President of Fretzin Inc. and podcast host of BE THAT LAWYER.
Steve Fretzin
Steve Fretzin is the President of FRETZIN, Inc., a legal business development and marketing company founded in 2004. He was driven into the legal industry during the recession of 2008 when attorneys began calling him for help. While not an attorney himself, Steve has worked with thousands of attorneys in most practice areas.
Steve is 100% committed to his client's success and works diligently each day to ensure they are achieving their goals of financial and personal freedom. In addition to publishing "Sales-Free Selling", "The Attorney's Networking Handbook" and "The Ambitious Attorney", Steve has been featured in Crain's, The Chicago Tribune, WGN radio, NBC news and is a regular monthly columnist for the Chicago Daily Law Bulletin.
Steve is also the creator and host of "Be That Lawyer", a weekly podcast in which he interviews top rainmakers, marketing experts and legal tech gurus to explain and present the best ways to improve processes and help break down complex ideas into simple and digestible concepts.
In addition to enjoying free time with his wife Lisa and son Andrew, Steve loves to eat healthy food, travel and play platform tennis. (Look it up on YouTube!) Steve's mantras in life are to control what is controllable and to not be afraid of new experiences.
FRETZIN, Inc.
With over 20 years of coaching experience, Steve works with attorneys in all practice areas from start-up solos to attorneys at large firms originating over $6 million in billables a year. Acting as a kind of "business development therapist," Steve Fretzin coaches and trains lawyers with the most modern-day business development skills, providing precise tips, fresh ideas and actionable tasks that drive tangible results.
Steve focuses exclusively in legal business development for lawyers and collaborates directly with his clients to create a custom plan and accountability based on your specific business goals and designed to deliver tangible results.
Prevail Legal Marketing
Prevail Legal Marketing is redefining the relationship between PPC companies and law firms. Marketing agencies have been taking advantage of law firms for too long with retainers that incentivize higher ad spends rather than improved performance.
At Prevail, we partner with law firms to mitigate their risk by guaranteeing lead costs and reinventing the traditional marketing retainer model.
Prevail's PPC Marketing is Different
– Pay for Results, not Promises
– Guaranteed Lead Costs
– Start, Stop, or Increase Volume On-Demand
– No Up-Front Fees
– No Long-Term Contracts
More Podcast Episodes