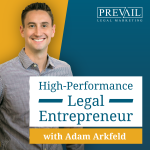 In this episode, we interview Galy Vega, Owner of Galy Vega Virtual Administrative Assistant Services.
Galy Vega
In early 2011, Galy decided to blend her law firm administration and marketing assistant experience with her enthusiasm for helping individuals by launching her own online virtual assistance service business. For a decade now, Galy and her team have gained their client's trust and continue to provide unparalleled VA services across the United States.
Galy Vega Virtual Administrative Assistant Services
Galy Vega Virtual Administrative Assistant services supports small law firms and business owners in their administrative, legal secretary and paralegal efforts. We tailor our services to fit each client's unique business. Our goal is to help our busy clients do and be more.
Prevail Legal Marketing
Prevail Legal Marketing is redefining the relationship between PPC companies and law firms. Marketing agencies have been taking advantage of law firms for too long with retainers that incentivize higher ad spends rather than improved performance.
At Prevail, we partner with law firms to mitigate their risk by guaranteeing lead costs and reinventing the traditional marketing retainer model.
Prevail's PPC Marketing is Different
– Pay for Results, not Promises
– Guaranteed Lead Costs
– Start, Stop, or Increase Volume On-Demand
– No Up-Front Fees
– No Long-Term Contracts
More Podcast Episodes