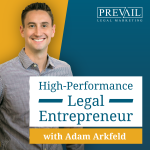 In today's episode, we interview Shawn Hill, Community Marketing Director at NiceJob.
Shawn Hill
Shawn Hill is the Community Director for NiceJob Inc. and host of The NiceJob Podcast. With 15+ years of experience across the US and Canada, Shawn is an expert in reputation marketing, community communication, and engagement. Shawn is passionate about customer-driven growth by connecting people and establishing, building, and protecting reputations. He also is a certified Fun Delivery Specialist and once gave a keynote speech at a major US bank without even knowing it.
NiceJob
NiceJob operates with the mission to help great companies get the reputation they deserve by creating products that ensure that great work never goes unrecognized, unappreciated, or unrewarded. We want to create a more equitable world and firmly believe that if, for example, someone is great at a particular service, they shouldn't have to be a great marketer just to get the recognition they deserve. Our product is a suite of reputation marketing tools that are combined the easiest way for great companies to get the reputation they deserve by getting them more reviews, referrals, and sales. We intelligently automate the process of review collection for companies and give them tools to increase the visibility of those reviews to help drive sales. We also provide analytics and social media management tools to share and track the performance of their reviews and the employees who are attributed to them. This help companies increase their local search rankings, save time, and ultimately, increase sales.
Prevail Legal Marketing
Prevail Legal Marketing is redefining the relationship between PPC companies and law firms. Marketing agencies have been taking advantage of law firms for too long with retainers that incentivize higher ad spends rather than improved performance.
At Prevail, we partner with law firms to mitigate their risk by guaranteeing lead costs and reinventing the traditional marketing retainer model.
Prevail's PPC Marketing is Different
– Pay for Results, not Promises
– Guaranteed Lead Costs
– Start, Stop, or Increase Volume On-Demand
– No Up-Front Fees
– No Long-Term Contracts
More Podcast Episodes