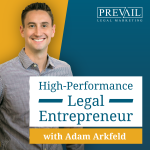 In today's episode, we interview Shaina Weisinger, Founder of Repurpose House.
Shaina Weisinger
Shaina Weisinger is the Founder and CEO of Repurpose House, which repurposes long-form content into optimized videos and images for high engagement social media strategies. She is on a mission to show content creators the untapped potential and repurposing power of the content that they already have. She has spoken in FinCon, PodFest, etc. about the importance of repurposing content in saving time and resources.
Repurpose House
Repurpose House is a service that transforms your existing blog, video, or podcast content into images and videos that are optimized for sharing on every social media platform.
Prevail Legal Marketing
Prevail Legal Marketing is redefining the relationship between PPC companies and law firms. Marketing agencies have been taking advantage of law firms for too long with retainers that incentivize higher ad spends rather than improved performance.
At Prevail, we partner with law firms to mitigate their risk by guaranteeing lead costs and reinventing the traditional marketing retainer model.
Prevail's PPC Marketing is Different
– Pay for Results, not Promises
– Guaranteed Lead Costs
– Start, Stop, or Increase Volume On-Demand
– No Up-Front Fees
– No Long-Term Contracts
More Podcast Episodes