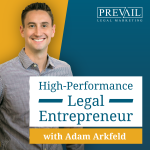 In today's episode, we interview Chris Dreyer, CEO of Rankings.io.
Chris Dreyer
Chris Dreyer is the founder and CEO of Rankings.io, the only agency solely dedicated to helping personal injury law firms dominate first page rankings. Our clients consistently rank in the top 1-3 first page search results, in some of the most competitive metro areas (like San Diego, Houston, Philadelphia, and Chicago), as well as entire states and even nationwide.
We've also been on the Inc. 5000 list for four consecutive years, and received UpCity's Excellence Award (placed in the top 1%), which recognizes businesses nationally for brand integrity, three years in a row. Our minimum monthly engagement is $10,000, so we're not for everyone. However, most clients see a return on investment in less than six months. To provide exceptional service and serious ROI, we limit who we work with and go all in for them.
Prevail Legal Marketing
Prevail Legal Marketing is redefining the relationship between PPC companies and law firms. Marketing agencies have been taking advantage of law firms for too long with retainers that incentivize higher ad spends rather than improved performance.
At Prevail, we partner with law firms to mitigate their risk by guaranteeing lead costs and reinventing the traditional marketing retainer model.
Prevail's PPC Marketing is Different
– Pay for Results, not Promises
– Guaranteed Lead Costs
– Start, Stop, or Increase Volume On-Demand
– No Up-Front Fees
– No Long-Term Contracts
More Podcast Episodes