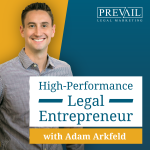 In today's episode, we interview Dov Slansky, Co-Founder and VP of Solutions Engineering at Litify.
Dov Slansky
Dov Slansky is an accomplished Attorney and Vice President at Litify. Dov is a consumer law firm growth expert and he oversees the team of solutions engineers crafting creative solutions for enterprise law firms that want to scale. Dov enjoys speaking about law firm best practices for growth at industry conferences and is a leader in the personal injury industry.
Prevail Legal Marketing
Prevail Legal Marketing is redefining the relationship between PPC companies and law firms. Marketing agencies have been taking advantage of law firms for too long with retainers that incentivize higher ad spends rather than improved performance.
At Prevail, we partner with law firms to mitigate their risk by guaranteeing lead costs and reinventing the traditional marketing retainer model.
Prevail's PPC Marketing is Different
– Pay for Results, not Promises
– Guaranteed Lead Costs
– Start, Stop, or Increase Volume On-Demand
– No Up-Front Fees
– No Long-Term Contracts
More Podcast Episodes